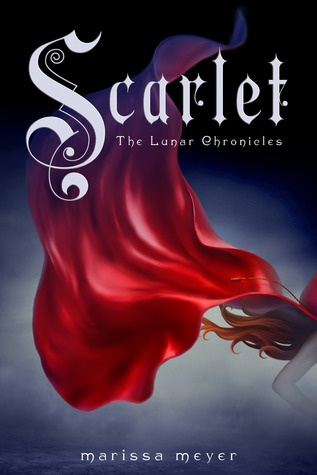 Scarlet by Marissa Meyer
The Lunar Chronicles #2
Publisher: Feiwel and Friends
Release Date: February 5th, 2013
Source:
Date Read: 9/12/14 to 10/10/14
452 Pages
Rating:

✰
✰
✰
✰
✰
Cinder, the cyborg mechanic, returns in the second thrilling installment of the bestselling Lunar Chronicles. She's trying to break out of prison--even though if she succeeds, she'll be the Commonwealth's most wanted fugitive.

Halfway around the world, Scarlet Benoit's grandmother is missing. It turns out there are many things Scarlet doesn't know about her grandmother or the grave danger she has lived in her whole life. When Scarlet encounters Wolf, a street fighter who may have information as to her grandmother's whereabouts, she is loath to trust this stranger, but is inexplicably drawn to him, and he to her. As Scarlet and Wolf unravel one mystery, they encounter another when they meet Cinder. Now, all of them must stay one step ahead of the vicious Lunar Queen Levana, who will do anything for the handsome Prince Kai to become her husband, her king, her prisoner.
Goodreads | Amazon | B&N | Book Depository
Marissa Meyer, I will honestly read anything by you. I don't care the topic.
Seriously, I cannot believe I waited THIS long to continue on with the series. What was I thinking??! I even spent a month on it because I wanted to savor the writing. I didn't skim or skip ahead, and instead I read every single word on each page.
For the readers that have not even touched
Cinder
yet (my review
here
), here are a couple reasons on why you
must pick up the book now.
The author is a genius, no joke. Her writing is perfection. The futuristic world is portrayed through show, and not tell.
And speaking of the world of The Lunar Chronicles, it is everything I ever wanted in a series. Nothing is underdeveloped, I can envision everything in my head, and I'm never left asking for more. Because it's already there, even in the first book.
The characters, do I even need to explain this? Cinder is awesome, and original. A cyborg, genius mechanic, what more could you ask for?
Now here's my review of the next book, Scarlet. Feel free to skim, but just letting you know there aren't any spoilers!
Scarlet blew me away, and it was honestly just as amazing as the first book, though probably even better. There were a decent amount of new characters introduced, such as Scarlet (well, duh) and the ever mysterious Wolf.
The main reason I loved Scarlet, was not only did it expand on the world-building (and also Paris!), but Meyer did
that one thing that I love the most.
She took both pairs of characters, developed them separately, and then forced them to meet in the end. I'm such a sucker for those things.
And then there was the l
ies and and the deception! Wooo!
Even though it made me sad when it happened, it was a good kind of sad. Even I was sometimes fooled. I kept on changing my mind on whether I should trust certain characters or not.
ALSO. FAIRY TALE RETELLINGS. Red Riding Hood isn't even that popular, but Meyer
still made it more awesome.
She wove the characters and subplot into the main plot so neatly, with absolutely no plot holes or "what just happened" moments. Basically, this awesome
sci-fi world
with comms and ships and reimaginings of cities, but in the future, just grew larger and more amazing. I really just want to immerse myself in this world, and learn more and more and more and more.
I think the one thing that bothered me a little was that there was less Cinder, and more Scarlet. I mean, I still loved Scarlet and Wolf, but you know, I wanted to more about Captain Thorne. ALSO PRINCE KAI. I still think he's "eh" but whatever. I do want him to be part of the action in Cress, or I guess Winter.
But anyways, I'm already reading Cress with Holly @
Part of Your World
, which may be a bad thing since I'll be finished with it before Fairest and Winter come out. But I'm going to read it anyways. I'll just have to find something to distract me in the mean time.