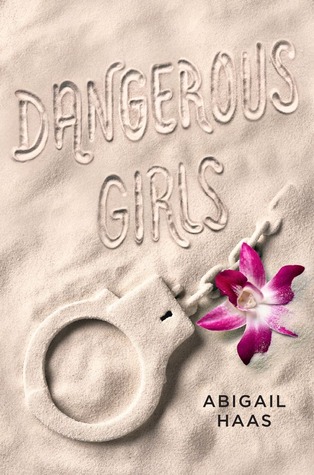 Dangerous Girls by Abigail Haas
Publisher: Simon Pulse
Release Date: July 16th, 2013
Source: Library
Date Read: 10/1/14 to 10/4/14
388 Pages
Rating:

✰
✰
✰
✰
✰
It's Spring Break of senior year. Anna, her boyfriend Tate, her best friend Elise, and a few other close friends are off to a debaucherous trip to Aruba that promises to be the time of their lives. But when Elise is found brutally murdered, Anna finds herself trapped in a country not her own, fighting against vile and contemptuous accusations.

As Anna sets out to find her friend's killer; she discovers hard truths about her friendships, the slippery nature of truth, and the ache of young love.

As she awaits the judge's decree, it becomes clear that everyone around her thinks she is not just guilty, but dangerous. When the truth comes out, it is more shocking than one could ever imagine...
Goodreads | Amazon | B&N | Book Depository


what.


WHAT WHAT WHAT WHAT WHAAAAAAT.

(That was my initial reaction after I finished. Yeah. This should just automatically convince you to read it.)



This has been on my TBR list since the hype surrounding Dangerous Girls and Dangerous Boys. Does it live up to it? Yes, yes, yes, yes.

To keep it short and simple, Dangerous Girls centers around a group of friends spending their summer break in Aruba by themselves. Everything is fun and all, until one of them gets murdered.

To be honest, I had some major, personal issues that I had to deal with while reading this book. First off, it gave me major stress because I grew super attached with the main character, Anna. I absolutely hated how her friends betrayed her while she was standing trial. There were just so many emotions and feelings going through me, that I had to pause in between chapters to process what was happening. I really wanted everything to be okay.

Honestly I had so many theories. I just kept pointing fingers at everyone, yet still, STILL, I was tricked, lied to, and everything that I thought was true, wasn't.


The changing of the present, past, and the time on the island was executed very well. Each chapter focuses on a scene from a different time, like the trial of Anna which takes place in the present, Anna's high school days which is the far past, and then the time on the island before the murder took place, which is the past. The best part of this, is that each chapter connects to the next, even though they take place in different times. It's very well done, though to be honest, I was constantly looking forward to the chapters on the trial, because I really wanted to know who did it. WHO MURDERED ELISE?????

Or course, when I found out, it was just......oh man. I don't want to swear, but it was a mindfuck.

Even now I'm still not exactly sure. I need to talk to someone about this hahaha.