Hello hello! I've been tagged by Jillian @ Jillian's Books to do the TBR tag! Basically there's a list of questions about my TBR list, and all I have to do is answer them! Oh! And also tag others!
How do you keep track of your TBR pile?
Through Goodreads! Because the only other way is through paper, which is something I don't feel like keeping track of. And then there's always my head, which is almost never reliable.
Is your TBR mostly print or ebook?
How about mostly none? I am a broke college student with loans to pay off and overpriced textbooks. What more could I possibly need?
Please donate to Val's fundraiser for...um...my book blog...yeah...
I do take out my books from the library often though. BECAUSE LIBRARIES!
How do you determine which book from your TBR to read next?
I determine it based on how cheap it is online, or if it's something new that's caught my eye. I usually read my bought books right away, unless I'm waiting specifically for a time I don't have any more access to other books (library, e-books, arcs, etc.)
A book that's been in your TBR the longest.
The first book I ever added on Goodreads was 1Q84 by Haruki Murakami, which I'm not sure why it's there because I never even read 1984 yet.
I was obsessed with reading all his work though. And then I discovered YA, and that you didn't have to be a young adult to keep on reading them.
A book you recently added to your TBR.
My most recent book add was Green Rider, courtesy of Ely @ A Book so Fathomless. Thanks Ely!
A book in your TBR strictly because of its beautiful cover.
Apple and Rain
by Sarah Crossan. I don't know what it's about, and I rarely read contemporary, but this cover just screams awesome sauce. Like, I don't know how to describe it, but I'm getting some melancholy vibes from it. Also bittersweet ones as well.
I KNOW I'm a weirdo, but that's just how I feel about it!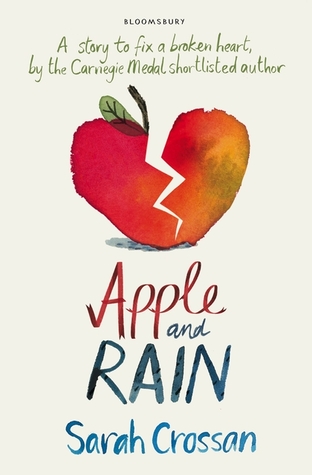 A book in your TBR that you never plan on reading.
So this will probably get me into a lot of trouble, but it's gonna be Divergent. Sorry, I'm sorry. I know I've said that I'll get around to it, but honestly, I'm not that interested.
Running away now. see ya
You know, I might read it sometime in my lifetime, maybe. But I would be fine with not reading it.
An unpublished book in your TBR that you're excited for.
CLARIEL BY GARTH NIX OMG!
A book in your TBR that everyone recommends to you.
Throne of Glass. The number of you bloggers that have told me to read it is insane. AND I SWEAR IF ANY OF YOU GUYS COMMENT ABOUT IT AGAIN, I WILL....umm...do something, bad.
Augh. I do need to read it. And I want to own a physical copy. It will be bought soon. Sorry guys. I'm such a huge let down.
Number of books in my TBR.
Actually, I only have 180! .....only.....
Well, definitely less than some other TBR lists I've seen!
Tags:
Megan @
Adrift on Vulcan
Abby @
Enthralling Reads
Cait @
The Notebook Sisters
Alma @
Journey Through Fiction
Holly @
Part of that World
Emily @
Follow the Yellow Brick Road
Paula @
Her Book Thoughts!
Katrina @
Chased by my Imagination
...and everyone else!
As usual, I'm not forcing you to do the tag, it's just because I HAVE to tag people. And also,
anyone can do this!