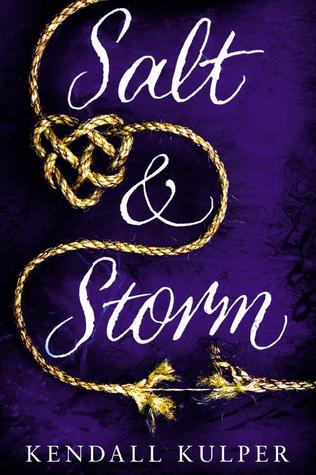 Salt & Storm by Kendall Kulper
Publisher: Little, Brown Books
Release Date: September 3rd, 2014
Source: Netgalley
Date Read: 9/9/14 to 9/11/14
416 Pages
Rating:

✰
✰
✰
✰
A sweeping historical romance about a witch who foresees her own murder--and the one boy who can help change her future.

Sixteen-year-old Avery Roe wants only to take her rightful place as the witch of Prince Island, making the charms that keep the island's whalers safe at sea, but her mother has forced her into a magic-free world of proper manners and respectability. When Avery dreams she's to be murdered, she knows time is running out to unlock her magic and save herself.

Avery finds an unexpected ally in a tattooed harpoon boy named Tane--a sailor with magic of his own, who moves Avery in ways she never expected. Becoming a witch might stop her murder and save her island from ruin, but Avery discovers her magic requires a sacrifice she never prepared for.
Goodreads | Amazon | B&N | Book Depository
Thank you Netgalley for an e-ARC in exchange for an honest opinion!
After a not so good string of ARCs, I was wary of Salt and Storm. BUT NO. I WAS WRONG. For a debut novel, this was actually really good! There are some things here and there that can be improved, but overall, it was a great read. Seriously, 400 pages have never flown by faster.
FIRST OFF, THIS TAKES PLACE IN MASSACHUSETTS. Yay home state! Woop woop. I'm not sure what the exact date was, but whenever historical Massachusetts is involved, many people think of Plymouth, SALEM WITCH TRIALS, etc. But this was different. Instead of boring old Salem (I've been there. The museum is okay), Salt & Storm takes place on a little island off the coast, Prince Island. Here we find our MC, Avery Roe.
It's kind of a sad beginning. We see Avery happy with her grandmother in a cottage near the beach, and she's being shown magic. Everyone on the island comes to her grandmother for charms and other magical items that help with whaling, their boats, everything in life. Basically,
the Roe's magic is depended on throughout the entire island, and without it, they are nothing
It's really not so bad, ya know
Which is why everything goes to
chaos
when Avery is taken away by her mother.
Chaos, I tell you
You see, Avery wants to be the next Roe witch. But her mother doesn't. Her mother has cast away all magic (or so you think), and wants Avery to do the same. And if both Avery and her mother don't use magic to help the island, then the Roe line will be broken. WHICH MEANS NO MORE MAGIC.
Of course Avery is pissed. But she can't escape her mother's curse (that keeps her away from her grandmother).
Four years later, Avery is still fighting her mother. She's constantly trying to find a way to her grandmother, but this means seeking external help. And with that, in comes potential love interest, Tane. He does know some magic, and he's willing to trade his away for her dream-interpreting magic in order to avenge his family.
SO. WHALING, MAGIC, CURSES, WITCHES.
Salt & Storm is very detail heavy. Personally, I thought it fit the story because it takes place in historical MA. But then again, one qualm I do have is that there are incredibly long sentences that almost describe everything. And it's a very "tell not show" narration.
I will deal because it was good
There's also this air around the whole book that just feels--I don't know, I can't really describe it.
One thing I can say is that this book is
not hopeful
. Nope. It's not. It's not that it's depressing or anything, it's just that many bad things happen, and you are led to believe that these things won't happen. Well, either that or I'm a naive girl that only believes in happy endings (honestly, everyone deserves happy endings).
BUT YEAH. THIS ENDING WAS SAD. (or more accurately, "bleak" as Holly @
Part of that World
says lol)
To sum up, Salt & Storm is more about the relationships between family and friends, rather than Avery's ability to do magic. Though with that being said, the magic is kind of explained throughout the novel, and it's actually based on the tying of different kinds of knots.
SO YEAH. GOOD BOOK. BOOK WAS GOOD!