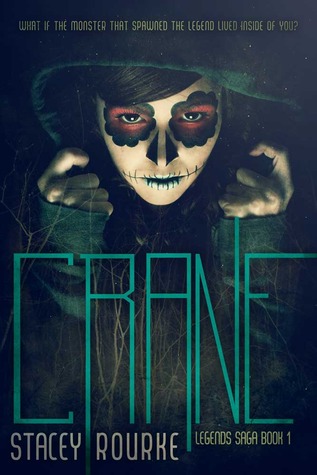 Crane by Stacey Rourke
The Legends Saga #1
Publisher: Anchor Group Publishing
Release Date: May 26th, 2014
Source: e-book
Date Read: 8/27/14 to 9/2/14
298 Pages
Rating:

✰
✰
✰
✰
The Horseman is unending,
his presence shan't lessen.
If you break the curse,
you become the legend.

Washington Irving and Rip Van Winkle had no choice but to cover up the deadly truth behind Ichabod Crane's disappearance. Centuries later, a Crane returns to Sleepy Hollow awakening macabre secrets once believed to be buried deep.

What if the monster that spawned the legend lived within you?

Now, Ireland Crane, reeling from a break-up and seeking a fresh start, must rely on the newly awakened Rip Van Winkle to discover the key to channeling the darkness swirling within her. Bodies are piling high and Ireland is the only one that can save Sleepy Hollow by embracing her own damning curse.

But is anyone truly safe when the Horseman rides?
Goodreads | Amazon | B&N | Book Depository
WHY is this not more popular????
But seriously, I never thought it would live up to its cover. I have been deceived before, BUT NOT THIS TIME. No, Crane is a surprisingly, well-written,
new adult
paranormal story without a huge emphasis on the romance. It's
actually more about the suspenseful plot
.
Yes finally.


Just hear me out. To anyone who doesn't know where to start with New Adult, this is for you.
Crane starts out with our two main characters from two different time periods, Ichabod and Ireland. At the beginning, I did get slightly confused because I thought Ireland referred to the place, but this is not the case (lol). But in both of these time periods, we encounter the problem OF THE HEADLESS HORSEMAN! (Just kidding that's not the name, but there are murders)
So on both sides of the timeline, Ireland and Ichabod are dealing with murders in Sleepy Hollow. And as time passes, everything becomes really eerie, and curses and magic becomes involve. It comes to the point that one of Ichabod's friends, Rip, is put under a spell to help him
travel through time into the future
to warn Ireland of the curse.
Have I mentioned that I really liked how good and well-written this was? Lemme do it again.
First off, Ireland as a main (main main) character is gold.
She constantly speaks her mind, and is a smart-mouth. As a 25ish year old, she fits her age perfectly.
Basically she has her own awesome personality
, and I've read a lot of books where the MC was just "meh".
And then Rip is this 50 or 60 year old OUT OF HIS TIME, and is helping Ireland with the whole curse situation. He kind of knows what's up, but not really. It's really funny to see him stumble around and get used to the current time period.
And no, before you ask, he is not the romantic interest. It's A HOTTER GUY DON'T WORRY. And he's adorable.
And along with this, I really liked the whole plot and how it was executed. Normally something like this wouldn't interest me, but the way it was written and how awesome the characters were really pulled me into the story. AND THERE WAS MURDER. MYSTERY. And all that jazz!
To be honest, I do have to say that at some times, I was very confused at what was going on, especially at the end. And also,
I do want more!
Luckily I am signed up for the second book, which I currently have, so that's a plus!
Overall, I enjoyed Crane immensely, and I'm excited to go onto the next book!