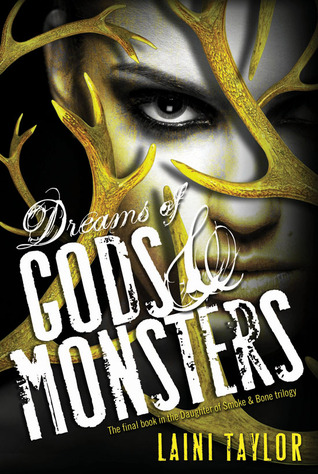 Dreams of Gods & Monsters by Laini Taylor
Daughter of Smoke & Bone #3
Publisher: Little, Brown Company
Release Date: April 8th, 2014
Source: Library
Date Read: 7/29/14 to 8/4/14
613 Pages
Rating:

✰

✰

✰

✰
By way of a staggering deception, Karou has taken control of the chimaera rebellion and is intent on steering its course away from dead-end vengeance. The future rests on her, if there can even be a future for the chimaera in war-ravaged Eretz.





Common enemy, common cause.





When Jael's brutal seraph army trespasses into the human world, the unthinkable becomes essential, and Karou and Akiva must ally their enemy armies against the threat. It is a twisted version of their long-ago dream, and they begin to hope that it might forge a way forward for their people.





And, perhaps, for themselves. Toward a new way of living, and maybe even love.





But there are bigger threats than Jael in the offing. A vicious queen is hunting Akiva, and, in the skies of Eretz ... something is happening. Massive stains are spreading like bruises from horizon to horizon; the great winged stormhunters are gathering as if summoned, ceaselessly circling, and a deep sense of wrong pervades the world.





What power can bruise the sky?





From the streets of Rome to the caves of the Kirin and beyond, humans, chimaera and seraphim will fight, strive, love, and die in an epic theater that transcends good and evil, right and wrong, friend and enemy.





At the very barriers of space and time, what do gods and monsters dream of? And does anything else matter?
Goodreads | Amazon | B&N | Book Depository
I have finally finished this
monstrosity of a book.
Yes, I loved this series, and I've been anticipating this last book since I finished the second one,
but still,
600 pages is a lot to take in, you know? It's just so intimidating!
But in the end, I did finish it! And for the first time in a while, I have finished a trilogy! COMPLETELY. *cues confetti* Woooooo!
Party time with dancing Groot!
Since this is the
last book of the Daughter of Smoke & Bone Trilogy,
I've decided to
convince you
to start the series, by slightly recapping the first book, and also by mentioning its awesomeness. In bullet-point form of course:
Meet Karou. She is awesome. She also has blue hair (and I'm imagining, a nice royal blue color, unless I'm completely wrong ah well who cares). AND SHE'S AN AMAZING ARTIST
She doesn't know where she comes from, except that she's been raised by chimaera, who act as her family
And of course, when she meets Akiva, and that's where all hell breaks loose! Because when you think that this is just your typical "angel" meets "demon" thing, you are wrong. Life is more complicated than just romance. The two sides have been at war, since maybe forever? And that's not even all! Especially coming into the third book here.
Be prepared to enter an AMAZING and ORIGINAL WORLD, like seriously, I don't think you'll find any other book like this. The originality of the world that Taylor magically comes up with is impressive. GIVE ME A BRAIN LIKE THAT.
Right, ok, onto the actual review of
Dreams of Gods & Monsters.
Feel free to skim or skip if you haven't even touched this series (yet)!
Dreams of Gods & Monsters really was an amazing end to a really, really good YA fantasy trilogy. Even now, I just want to start over with the first book, and reread them all, this time more slowly. There is just so much to take in with this series, and some parts can be confusing if you took long breaks between each book (lol me). I especially had a hard time with this at the beginning, because I had to yet again, get accustomed to all the side characters, the changing POVs, and also even some new characters. Luckily, the author gave us a reminder to who was who, and by the middle, I was rolling along.
Yep, because once I got reaquainted with my beloved characters, Karou and Ziri and Mik and Zuzanna, I just could not stop reading. At that point, it wasn't even a 600 page book anymore.


Everything just came together so naturally, and the writing itself was also so beautiful, and augh, I just absolutely loved how original the world was. I remember thinking to myself, "I don't think I'll read anything as complex and original as this again." I'll probably be proven wrong sometime soon (and Harry Potter is an exception to this), but it was a thought!
"But Val," you might ask, "if you love this series so much, and it ended perfectly, then WHY is it only rated 4 stars?" Well first off, I think I would rate it 4.25, but I like rounding. And second, some things did bother me a little in the end.
Spoiler time! Highlight to see!
I'm not sure how I feel about Taylor adding in the whole "there are multiple universes and beasts are out there to get us, and yes Akiva you are opening up the veil that is keeping the beasts from the other universes". Like wow, isn't that a mouthful? And that's along with everything else that's been happening too.
End spoiler!
And also, I approve of Akiva and Karou's relationship, I really do, it's just that I don't really know that much about him. Basically he doesn't "pop out" like all the other characters in this series. In fact, I think I'm more fascinated by (spoiler)
Ziri's and Lizrael's relationship,
and then of course there's Mik and Zuzanna, who are totally badass.
In the end though,
I definitely recommend this series.
I know, I'm done I'm done, ok? But it was just so mesmerizing and beautiful, and gah. It was a great experience, and now I'm just SO SAD that it's over.