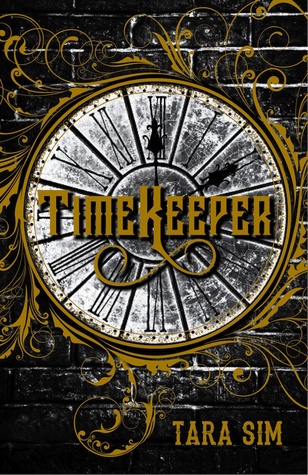 Timekeeper by Tara Sim
Timekeeper #1
Publish
er: Sky Pony Press
Release Date: November 8th, 2016
Source: Edelweiss
Date Read: 10/18/16 to 11/4/16
368 pages
Two o'clock was missing.

In an alternate Victorian world controlled by clock towers, a damaged clock can fracture time—and a destroyed one can stop it completely.

It's a truth that seventeen-year-old clock mechanic Danny Hart knows all too well; his father has been trapped in a Stopped town east of London for three years. Though Danny is a prodigy who can repair not only clockwork, but the very fabric of time, his fixation with staging a rescue is quickly becoming a concern to his superiors.

And so they assign him to Enfield, a town where the tower seems to be forever plagued with problems. Danny's new apprentice both annoys and intrigues him, and though the boy is eager to work, he maintains a secretive distance. Danny soon discovers why: he is the tower's clock spirit, a mythical being that oversees Enfield's time. Though the boys are drawn together by their loneliness, Danny knows falling in love with a clock spirit is forbidden, and means risking everything he's fought to achieve.

But when a series of bombings at nearby towers threaten to Stop more cities, Danny must race to prevent Enfield from becoming the next target or he'll not only lose his father, but the boy he loves, forever.
I received this ARC in exchange for an honest review. Quotes taken from ARC may or may not be in the published edition.

Timekeeper wasn't on my radar until someone mentioned it on Twitter. That, and the fact that it was on EW as Read Now, made me pick it up. Maybe I'm just ignorant, but this may be the second book I've seen that is not only fantasy, but also features a m/m relationship. I'm always on the lookout for fantasy books with same-sex relationships, hence another reason I was so highly anticipating this.

Saying that, I did very much enjoy Timekeeper. We're introduced to this unique world, where time is controlled by clock towers essentially. If a clock breaks, the area surrounding it is affected, potentially even causing time to stop altogether. This is what happened to Daniel's father, who got stuck in a stopped town, Maldon. Three years later, Danny has followed in his father's footsteps in becoming a clock mechanic, mainly to find a way to bring his father back. But time proves that it may not be that easy.

And it doesn't help that Danny pretty much fell in love with a clock spirit. Who no one knows about because not only no one knows they exist, but it's apparently forbidden to fall in love with the clock you're fixing.

The book starts off really strong, with the introduction of this fascinating world run by clock towers. Whether it's due to the splitting of time by the gods, or pure magic, either way no one knows for sure how time is truly controlled. To them, having magical clock towers all over the world is perfectly normal.

Then there's the clock spirit, Colton. I found Danny and Colton's relationship lovely, along with innocent. Here we have a clock spirit that has never talked to anyone, but so deeply cares about his town. And then we have Danny, who isn't defined by his sexuality, but rather more on his determination to rescue his father. Along with Danny and Colton, we have a multitude of characters who each have their own histories. Even though there wasn't enough time to explore each character, it was enough to allow me to distinguish between each of them. And sometimes, especially in the first book of a series, that's fine with me.

The one thing that did irk me a bit was the rushed ending. I don't think it helped that the ending was full of "X explained what happened to Y". I'm pretty sure I encountered that sentence or a variation it at least three times. Enough for me to notice it at least.

Overall, I enjoyed reading Timekeeper immensely. I'm eagerly awaiting the next book, even though I thought this would be fine as a standalone.