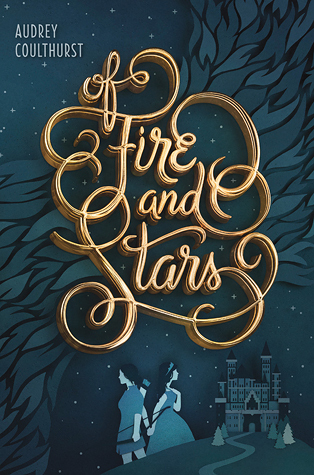 Of Fire and Stars by Audrey Coulthurst
Publish
er: HarperCollins
Release Date: November 22nd, 2016
Source: Edelweiss
Date Read: 11/7/16 to 11/8/16
400 pages
Betrothed since childhood to the prince of Mynaria, Princess Dennaleia has always known what her future holds. Her marriage will seal the alliance between Mynaria and her homeland, protecting her people from other hostile lands. But Denna has a secret. She possesses an Affinity for fire—a dangerous gift for the future queen of a kingdom where magic is forbidden.

Now, Denna must learn the ways of her new home while trying to hide her growing magic. To make matters worse, she must learn to ride Mynaria's formidable warhorses before her coronation—and her teacher is the person who intimidates her most, the prickly and unconventional Princess Amaranthine (called Mare), sister of her betrothed.

When a shocking assassination leaves the kingdom reeling, Mare and Denna reluctantly join forces to search for the culprit. As the two work together, each discovers there's more to the other than she thought. Mare is surprised by Denna's intelligence and bravery, while Denna is drawn to Mare's independent streak. Soon their friendship is threatening to blossom into something more.

But with dangerous conflict brewing that makes the alliance more important than ever, acting on their feelings could be deadly. Forced to choose between their duty and their hearts, Mare and Denna must find a way to save their kingdoms—and each other.
I received this ARC in exchange for an honest review. Quotes taken from ARC may or may not be in the published edition.
To be honest, I have heard not so great things about Of Fire and Stars. And because of that, I may or may not have had extremely low expectations. But in the end, that worked out for me! Because surprisingly, I enjoyed this book. Even to the point where I was asking
Shannon
and
Holly
, "did we read the same book?"
Now, does this mean the world building wasn't lacking?
Well, no.
Though the book was quite bland, it wasn't the train wreck I was expecting.
What first drew me into this book was the
f/f relationship in a fantasy setting
. Denna is to the future queen of Mynaria, being engaged to the prince. However, two problems arise. First, her affinity for magic increases in a place that does not tolerate it at all. And second, she doesn't feel herself drawn to the prince, but rather the princess. Who is, surprise, not at all "princess-like" and rather ride horses all day rather than find a prince to marry.
The plot itself isn't that intriguing. Someone is assassinated, the blame is put on the people who are able to use magic, Denna and Mare have to hide their love. It's easy to predict. Now that I think about it, the side plot of what's-his-face wanting to marry Mare didn't quite work now that I think about it. (Spoilers. Highlight to read)
I'm pretty sure he wanted to use her as collateral against her country, but I could've sworn her father couldn't care less. Hmm. Not sure if that plan would have worked
(End Spoiler).
Even though the plot was meh, and the world-building was extremely lacking, I at least was still entertained. Hence the 3 stars and not 1. Not only that, but the slow-burn romance between Denna and Mare was pretty well done. Plus, the fact that there just aren't many books out there with both a main f/f relationship and set in fantasy. It was quite refreshing in that regard.
But to everything else?
Not so much.
Overall I would highly suggest borrowing this book. Though it's not the best book I've read, I'm really glad it features f/f relationship, especially in times like these.