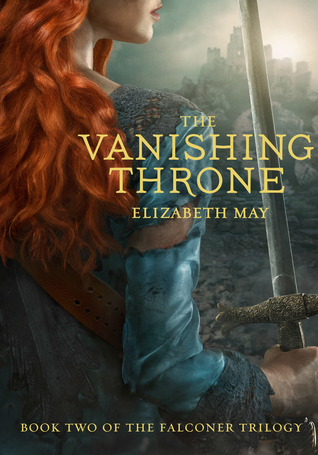 The Vanishing Throne by Elizabeth May
The Falconer #2
Publish
er: Chronicle Books
Release Date: June 21st, 2016
Source: ALA Midwinter
Date Read: 6/8/16 to 6/13/16
384 pages
The second book in the Falconer trilogy is packed with surprises and suspense.

Aileana Kameron, the Falconer, disappeared through the portal that she was trying to close forever. Now she wakes up in the fae world, trapped and tortured by the evil Lonnrach. With the help of an unexpected ally, Aileana re-enters the human world, only to find everything irrevocably changed. Edinburgh has been destroyed, and the few human survivors are living in an uneasy truce with the fae, while both worlds are in danger of disappearing altogether. Aileana holds the key to saving both worlds, but in order to do so she must awaken her latent Falconer powers. And the price of doing that might be her life.

Rich with imaginative detail, action, fae lore, and romance, The Vanishing Throne is a thrilling sequel to The Falconer.
I received this ARC in exchange for an honest review. Quotes taken from ARC may or may not be in the published edition.
If you all remember (unless you've never heard of this series until now), the first book
The Falconer
, ended on a major, if not unnecessary cliffhanger. Unnecessary in that I had to wait
more than a year
for this sequel. DO YOU KNOW HOW PAINFUL IT WAS?
But here we are, and I am content. Onto the review!
Spoilers ahead for the first book!
To be honest, I was incredibly hesitant to pick this up even though I knew it was going to be fantastic. The reasoning behind it was that I knew it was going to be extremely bleak. Aileana's world was in complete destruction, and it seemed like none of it would ever go back to normal. Half of the world's population was decimated, thanks to the fae. What hope is left? How could all of this be resolved? To me, it could not!
I'm also having a very hard time reviewing this. Have you ever just read a book, and didn't really pay attention to what you liked or didn't like because you were focusing on what would happen next? That's me with this book, and now I have no idea how to organize my thoughts. So here they are in list form!
Kiaran's sister, Aithinne. She wasn't anything I expected, similar to her brother but then not. I feel like she was the nicer counterpart, willing to help pretty much anyone in her way, but at the same time, not afraid to fight ruthlessly.
Derrick's pixie kingdom. Both humans and fae lived here on the condition that the fae would provide supplies, and wouldn't harm the humans. Also, the kingdom was revolved around illusions, so you could imagine your room to look like anything and it would take that form. This setup sounds great, until you think of all the people living in denial as to what happened.
Who the heck is Gavin again? This is why I should have reviewed the first book, even though I don't even have it. But I am so very glad this didn't develop until a love triangle, which the first book may have been hinting at (not that I remember!).
I still love Kiaran as a book boyfriend. Though I feel as if he is slightly more mushier in this book.
But who cares because my ship has sailed! (Though it already had by the end of the first book I think. Wow I really remember nothing!)
Much more history between the Seelie and the Unseelie courts were introduced. I'm still not exactly sure WHAT to make of it. Maybe I will reread the whole series before the last book in the trilogy.
Here's a non-spoilery summary!
Basically to sum up my rambly thoughts. I should never wait two years to continue a series. I probably shouldn't wait 1 month either (In this case I didn't have a choice, but still). Compared to its prequel, The Vanishing Throne went much more in depth in regards to the history of the fae, and how the Falconers came to be. Also, there was more romance, more action, just all in all a great continuation to the series. In other words, this did not suffer from second book syndrome. (But there is another cliffhanger, boo!)