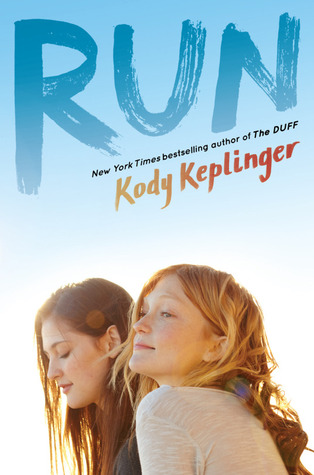 Run by Kody Keplinger
Publish
er: Scholastic Press
Release Date: June 28th, 2016
Source: ALA Midwinter
Date Read: 4/24/16 to 5/21/16
288 pages
Bo Dickinson is a girl with a wild reputation, a deadbeat dad, and a mama who's not exactly sober most of the time. Everyone in town knows the Dickinsons are a bad lot, but Bo doesn't care what anyone thinks.

Agnes Atwood has never gone on a date, never even stayed out past ten, and never broken any of her parents' overbearing rules. Rules that are meant to protect their legally blind daughter -- protect her from what, Agnes isn't quite sure.

Despite everything, Bo and Agnes become best friends. And it's the sort of friendship that runs truer and deeper than anything else.

So when Bo shows up in the middle of the night, with police sirens wailing in the distance, desperate to get out of town, Agnes doesn't hesitate to take off with her. But running away and not getting caught will require stealing a car, tracking down Bo's dad, staying ahead of the authorities, and -- worst of all -- confronting some ugly secrets.
I received this ARC in exchange for an honest review. Quotes taken from ARC may or may not be in the published edition.
Hey would you look at that! 5 stars for a contemporary! Must be the end of the world or something. Just kidding. Honestly, I just loved Run. Not only is it a powerful story about friendship, but it also tackles issues such as sexuality, disability, and family.
There are two main characters in the novel, each having their own POV. Agnes is a goody two shoes with overprotective parents, afraid that she'll hurt herself with her disability. On the other hand, Bo has a bad reputation. Her mother is constantly drinking, and at times Bo finds herself in foster care because of it. In Run, Agnes narrates the "before" while Bo narrates the "after". The event separating them is when Bo discovers she is being put in foster care again, leading to the both of them running off to find Bo's dad.
I'm not exactly sure HOW I can fully convince you to read this book. For one, I haven't read
The Duff
or
Lying Out Loud
, so I can't really compare any of them to Run. But nevertheless,
Run had a wonderfully unique plot.
I adored both Bo and Agnes, who both had such unique voices. With Agnes, I could see that she was really suffocating under the watch of her parents, who barely let her do anything. Yet at the same time, I admired how her parents stepped up and backed up her friendship with Bo, even with Bo's reputation. Bo herself didn't give a shit as to what
anyone
thought, and that was extremely refreshing. But she also thought about Agnes, and how she didn't want to drag her down to her level.
I guess what I'm afraid of with most contemporaries is running into petty drama, especially involving relationships. There were none in this book. Run featured a strong friendship between Bo and Agnes, even when it hit some rough patches along the way. The perspective each of them brought was vivid and refreshing, with Bo being bisexual and Agnes having a disability.
Basically, my point is is that you should
all
pick up this book. I would say more, but I think the best thing for you to do is to discover what happens on your own.
Also, thanks to
Amber
for patiently waiting for me to finish so we could chat about it!