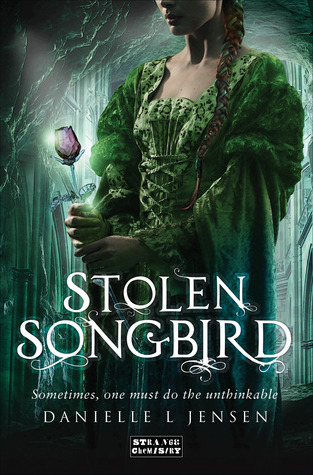 Stolen Songbird by Danielle L. Jensen
The Malediction Trilogy #1
Publish
er: Strange Chemistry
Release Date: April 1st, 2014
Source: Bought
Date Read: 4/21/16 to 4/24/16
469 pages
For five centuries, a witch's curse has bound the trolls to their city beneath the mountain. When Cécile de Troyes is kidnapped and taken beneath the mountain, she realises that the trolls are relying on her to break the curse.

Cécile has only one thing on her mind: escape. But the trolls are clever, fast, and inhumanly strong. She will have to bide her time…

But the more time she spends with the trolls, the more she understands their plight. There is a rebellion brewing. And she just might be the one the trolls were looking for...
Stolen Songbird was everything I wanted, but at the same time nothing I expected. I'm a fan of a good kidnapping plot (I think this is the weirdest line I've ever written, or I guess creepiest), which is one reason why I have been
so interested
in this series. Kind of why I decided to finally dropped everything just to read it. It was also the first time I listened to my feelings about which book I should read next. And I have no regrets.
I am actually not sure where to start, seeing as I finished this a couple of weeks ago. I felt that overall, it was a great start to a series. We meet Cécile, who even though isn't the toughest main character out there in the book world, still has her strengths. I'm always a fan of a musician, as someone who loves music, so seeing her being incredibly passionate about singing made me happy.
And there's Tristan, the prince about to be Troll king. And he
has
to marry Cécile because it's part of a prophecy (which seems so obviously made up) to break the curse keeping all the trolls under the mountain. Apparently, he's quite handsome compared to the other trolls, and more human-looking. This troubled me the most because not only was I expecting a Beauty and the Beast sort of story, but I also had
trouble imagining what trolls normally looked like.
This may not be the writing's fault, but just my own. Do they look like how we imagine trolls to look like? Why are some trolls ugly while others are gorgeous? Or are they more human-like in general?
I would classify Tristan and Cécile's relationship as hate-to-love, or I guess "pretend-to-hate-to-love". I did not mind Tristan, but it seems like
all trolls
in general had the whole "I'm better than a human" attitude, and they were quite haughty about it. But over time, Tristan grew on me. He put up this image of what he wants others to see, because politics. But once I saw through all of that, I approved.
Stolen Songbird reminded me a little of The Winner's Curse, where there is more world-building and politics rather than action. There were many reveals that kept me on the edge of my seat, and wanting more. Luckily I have the second book on my Kindle! (But I probably won't get to it until later, haha). Either way, I do want to mention that the hype did get to me a little bit, but I still very much enjoyed this!