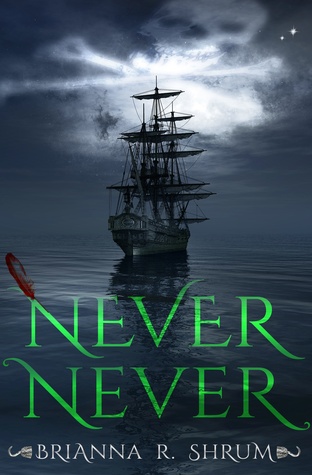 Never Never by Brianna R. Shrum
Publish
er: Spencer Hill Press
Release Date: September 22nd, 2015
Source: Netgalley
Date Read: 10/21/15 to 10/28/15
368 pages
James Hook is a child who only wants to grow up.

When he meets Peter Pan, a boy who loves to pretend and is intent on never becoming a man, James decides he could try being a child—at least briefly. James joins Peter Pan on a holiday to Neverland, a place of adventure created by children's dreams, but Neverland is not for the faint of heart. Soon James finds himself longing for home, determined that he is destined to be a man. But Peter refuses to take him back, leaving James trapped in a world just beyond the one he loves. A world where children are to never grow up.

But grow up he does.

And thus begins the epic adventure of a Lost Boy and a Pirate.

This story isn't about Peter Pan; it's about the boy whose life he stole. It's about a man in a world that hates men. It's about the feared Captain James Hook and his passionate quest to kill the Pan, an impossible feat in a magical land where everyone loves Peter Pan.

Except one.
I received this eARC in exchange for an honest review. Quotes taken from ARC may or may not be in the published edition.
Why are there no books out there that show Peter Pan as a nice, fun loving child, rather than this monstrosity? This now makes two books (Tiger Lily), where Peter wasn't exactly shown in a good light. I'm not saying that this is a bad thing,
but where is my childhood
?!!
Long story short, I wasn't a fan of
Never, Never
unfortunately. As much as I was looking forward to James Hook's side of the story (which was somewhat interesting) it was just a rehash of the original Peter Pan with more blood and realism. Even some of the lines from the original (I could even say the Disney version) were copied into some of the scenes.
It's not that I
hated
the book, but it was more that it was incredibly boring in that I was falling asleep with the kindle falling onto my face. I wasn't into much of the story at all, especially the characters, who I hated anyways. I literally was just going through the book, the scenes, the actions, not really caring about what was going on. And the fact that I have to admit that Peter Pan sucks saddens me. LIKE WHY is he such a little piece of ...argh *makes stabby hand motions*.
And Tiger Lily? Ehh. Boring.
I did like the elements of having experiences makes you grow up faster, but other than that, eh. Everything was eh. I really could not have cared less, and as much as that makes me sad, I'm glad that I'm finished reading it. Or skimming it. One reason why you should probably take this review with a grain of salt!
Overall, I AM DONE. I wish I could say more, but honestly I don't think there is much to say unfortunately.