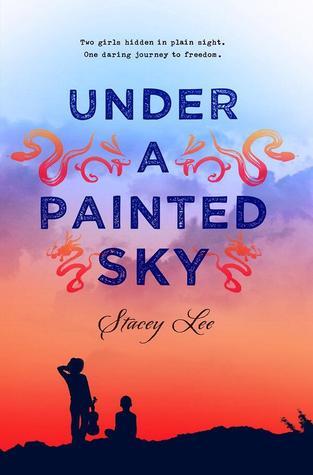 Under A Painted Sky by Stacey Lee
Publish
er: G.P. Putnam's Sons Books for Young Readers
Release Date: March 17th, 2015
Source: Library
Date Read: 10/29/15 to 11/4/15
384 pages
Missouri, 1849: Samantha dreams of moving back to New York to be a professional musician—not an easy thing if you're a girl, and harder still if you're Chinese. But a tragic accident dashes any hopes of fulfilling her dream, and instead, leaves her fearing for her life. With the help of a runaway slave named Annamae, Samantha flees town for the unknown frontier. But life on the Oregon Trail is unsafe for two girls, so they disguise themselves as Sammy and Andy, two boys headed for the California gold rush. Sammy and Andy forge a powerful bond as they each search for a link to their past, and struggle to avoid any unwanted attention. But when they cross paths with a band of cowboys, the light-hearted troupe turn out to be unexpected allies. With the law closing in on them and new setbacks coming each day, the girls quickly learn that there are not many places to hide on the open trail.

This beautifully written debut is an exciting adventure and heart-wrenching survival tale. But above all else, it's a story about perseverance and trust that will restore your faith in the power of friendship.
I have been wanting to read this since it came out in March, and oh my goodness, was this such an amazing read! I seriously
cannot believe I didn't read this until now.
I fell in love with both Samantha and Annamae, and their beautiful friendship.
Both Samantha and Annamae find themselves in really tragic situations. Samantha's father recently passed away due to an unforeseen fire, and with him gone, she searches for help. Unfortunately help turns into something worse, and she accidentally murders the landlord (for a good reason anyways). There, she meets the slave Annamae, who has a wagon ready to escape to the west and meet her brother. So the two of them team up and become THE BESTEST OF FRIENDS.
Oh and they disguise themselves as boys instead of girls. BEST PLOTLINE EVER! And the fact that this is THE OREGON TRAIL. Did I mention how much I loved playing that game as a kid? Yes? No? (And this has nothing to do with the book, but did you guys see Shannon's
Oregon Trail
post? It is beyond hilarious)
But not only that, but what really makes this story is the characters. I absolutely loved the guys, West, Peety, and Cay, who pretty much adopted "Andy" and "Sam" into their own little cowboy family. Do I need to even mention how agitated I was for Sam and West to just...I don't know...for something to happen? Obviously Sam was disguised as a boy so she couldn't just reveal herself but I could still dream right? But still, every scene I just saw West and Sam come closer and closer together, and I just
could not stop reading until I got what I wanted.
And it wasn't just Sam that I loved, but Andy also found her way into my heart. She was never discouraged by anything, and was always determined to find a way to get to her brother. Even though all odds were against her. And although Sam was heartbroken about her father, she never let that get to her. Both of them were willing to watch each other's backs no matter what.
Under a Painted Sky
has become a new favorite. For its portrayal of a Chinese main character (second generation as well!), for its fabulous characterization, and for my now new interest of the Wild West. I would totally read this again. EVERYONE SHOULD READ THIS.