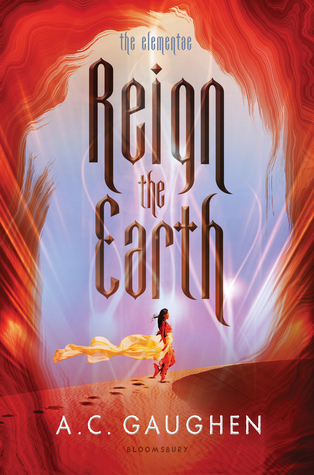 Reign the Earth by A.C. Gaughen
The Elementae #1
Publish
er: Bloomsbury
Release Date: January 30th, 2018
Source: Netgalley
Date Read: 1/16/18 to 1/18/18
448 pages
Shalia is a proud daughter of the desert, but after years of devastating war with the adjoining kingdom, her people are desperate for peace. Willing to trade her freedom to ensure the safety of her family, Shalia becomes Queen of the Bonelands.

But she soon learns that her husband, Calix, is motivated only by his desire to exterminate the Elementae—mystical people who can control earth, wind, air, and fire. Even more unsettling are Shalia's feelings for her husband's brother, which unleash a power over the earth she never knew she possessed—a power that could get her killed. As rumors of a rebellion against Calix spread, Shalia must choose between the last chance for peace and her own future as an Elementae.
Goodreads | Amazon | B&N | Book Depository
I received this ARC in exchange for an honest review. Quotes taken from ARC may or may not be in the published edition.
The first thing I would like to point out about Reign the Earth is that it is around 450 pages. And that is fine and all, but it really needed to be a bit more enticing and thrilling than what it actually was. It honestly did not help that the night I started this book, I had a dream that completely blew the actual book out of the water.


The plot of the story was decent enough, and to be fair I did end up connecting with the characters by the end of it. Basically, the main character Shalia marries the prince of another kingdom in order to make peace between the two sides. Obviously, this doesn't go smoothly as her brother is the leader of the resistance. Furthermore, she develops the very power that her husband is fighting against. This leads to a bunch of trouble, and Shalia trying to hide her very strong elemental powers AND her secret feelings for her husband's brother. So there's that.
Though there is a lot of conflict within the book, there isn't much that actually happens. As queen, Shalia tours the country, gets to know her husband and the kingdom (also, CW is needed for abuse), and tries to figure out where her powers fit into all of this. And for 450 pages, it's just…not worth it.
And this really might be my only gripe with the whole book, it just…wasn't interesting enough for me to feel like I wasn't trudging through this book.
The characters and the romance was again, interesting enough, but not enough to make me love this book. Maybe if there was a bit more action than there was, I would have been more excited? Who knows.
Overall, I really do not have much to say because this just ended up being a "meh" book. Not something I hated, but not something I loved either. Just right in the middle. It's just not worth reading 450 pages of. Womp womp.