I recently received a couple of review books that were pretty short reads, since they were in verse. And so instead of writing out my thoughts in three separate reviews (which would have been maybe a few sentences per post haha), I've lumped them all in one!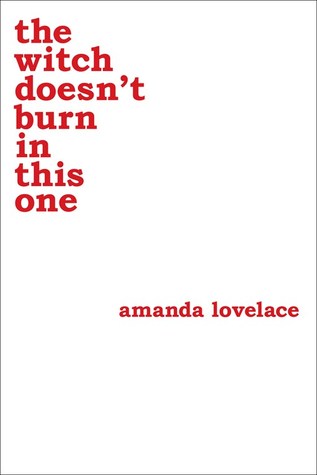 The Witch Doesn't Burn In This One by Amanda Lovelace
Women Are Some Kind Of Magic #2
Publisher: Andrews McMeel Publishing
Release Date: March 6th, 2018
Date Read: 1/8/18
Pages: 208
The witch: supernaturally powerful, inscrutably independent, and now—indestructible. These moving, relatable poems encourage resilience and embolden women to take control of their own stories. Enemies try to judge, oppress, and marginalize her, but the witch doesn't burn in this one.
"i may not survive the match-boys, but my bitch fire will survive them all."
As someone who really liked The Princess Saves Herself in This One, the sequel did not disappoint. It followed the same style of poetry, though since I'm no expert, all I can say is that I did enjoy it. Though rather simple at times, the lines were empowering. But I do have to say that there was a lot of repetition, which led to a bit more skimming than usual.
Also, the focus on white feminism was very noticeable, which is definitely understandable seeing as the author is white. Maybe more could have been said to include a non-cis audience, but otherwise I did enjoy this.
For Every One by Jason Reynolds
Publish
er: Atheneum/Caitlyn Dlouhy Books
Release Date: April 10th, 2018
For Every One is just that: for every one. For every one person. For every one dream. But especially for every one kid. The kids who dream of being better than they are. Kids who dream of doing more than they almost dare to dream. Kids who are like Jason Reynolds, a self-professed dreamer. Jason does not claim to know how to make dreams come true; he has, in fact, been fighting on the front line of his own battle to make his own dreams a reality. He expected to make it when he was sixteen. Then eighteen. Then twenty-five. Now, some of those expectations have been realized. But others, the most important ones, lay ahead, and a lot of them involve kids, how to inspire them. All the kids who are scared to dream, or don't know how to dream, or don't dare to dream because they've NEVER seen a dream come true. Jason wants kids to know that dreams take time. They involve countless struggles. But no matter how many times a dreamer gets beat down, the drive and the passion and the hope never fully extinguish—because just having the dream is the start you need, or you won't get anywhere anyway, and that is when you have to take a leap of faith.

A pitch perfect graduation, baby, or love my kid gift.
this letter on a billboard.
WOW. I am blown away again! For Every One is an inspirational poem performed at the opening of the Dr. Martin Luther King Jr. Memorial, and also as tribute to Walter Dean Myers. And now it's being published/printed! As the title mentions, this poem is "for everyone". For every individual, their dreams, their aspirations, and their struggles. Though short, this powerful piece is likely to inspire anyone who reads it.
Mary's Monster by Lita Judge
Publish
er: Roaring Brook Press
Release Date: January 30th, 2018
A young adult biography of Frankenstein's profound young author, Mary Shelley, coinciding with the 200th anniversary of its publication, told through free verse and 300+ full-bleed illustrations.

Mary Shelley first began penning Frankenstein as part of a dare to write a ghost story, but the seeds of that story were planted long before that night. Mary, just nineteen years old at the time, had been living on her own for three years and had already lost a baby days after birth. She was deeply in love with famed poet Percy Bysshe Shelley, a mad man who both enthralled and terrified her, and her relationship with him was rife with scandal and ridicule. But rather than let it crush her, Mary fueled her grief, pain, and passion into a book that the world has still not forgotten 200 years later.

Dark, intense, and beautiful, this free-verse novel with over 300 pages of gorgeous black-and-white watercolor illustrations is a unique and unforgettable depiction of one of the greatest authors of all time.
I actually know nothing about Frankenstein, except maybe the basic parts of the story. Reading about Mary Shelley's life was very eye-opening, as I didn't really know much about her! Plus, this wasn't a straight up biography, but rather a story told in verse. WITH CREEPY PICTURES (bonus points right there haha).