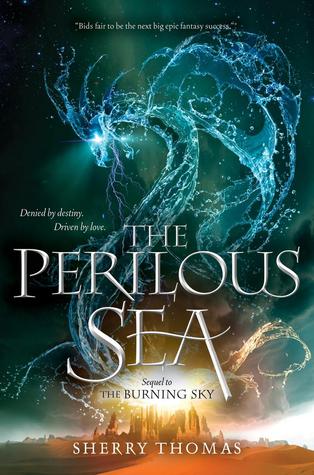 The Perilous Sea by Sherry Thomas
The Elemental Trilogy #2
Publisher: Balzar + Bray
Release Date: September 16th, 2014
Source: Library
Date Read: 2/10/15 to 2/12/15
414 pages
Rating:

✰
✰
✰
✰
After spending the summer away from each other, Titus and Iolanthe (still disguised as Archer Fairfax) are eager to return to Eton College to resume their training to fight the Bane. Although no longer bound to Titus by a blood oath, Iolanthe is more committed than ever to fulfilling her destiny—especially with the agents of Atlantis quickly closing in.

Soon after arriving at school, though, Titus makes a shocking discovery, one that makes him question everything he previously believed about their mission. Faced with this devastating realization, Iolanthe is forced to come to terms with her new role, while Titus must choose between following his mother's prophecies—and forging a divergent path to an unknowable future.
Goodreads | Amazon | B&N | Book Depository
That was pretty much my summed up reaction for the entire time I was reading this book.
The Perilous Sea is the second book of the Elemental Trilogy, so be prepared for slight spoilers ahead!
Oh what to say about this second book. I did really like it, relative to the first one at least, but it was just very strange. Strange as in the author took it a step further and split the story into two timelines. One started off where we left off in the first book, which is normal. But the other timeline was of 6 weeks later, in the Sahara desert with Titus and Iolanthe who have lost their memories. WHY?? We don't know. So you have to read the whole story so that the two timelines meet up in one.
Clever huh? The best part of book one was the slow burn romance of Iola and Titus, AND NOW YOU GET TO EXPERIENCE IT ALL OVER AGAIN!
It was pretty clever, haha
To me, the action was terribly well done. At least for the last half of the book. IT WAS EPIC, to say in the least. However, even though I had a vague idea of what was happening, I didn't really know the details of it. Everything was still so confusing, due to the disorganized magic system. I felt that the author was very familiar with the world, but kept forgetting that the reader wasn't.
Overall point I'm making: I understood what was going on, but not why. (Like how Titus and Iola lost their memories, I didn't really understand that part)
Nevertheless, the twists and turns in this were epic. The story itself is unpredictable and I'm really glad I ended up continuing the series. Of course, (and unfortunately), it all ends on a cliffhanger, and I have no idea when that third book will be coming out.
So, amazing unpredictable fast-paced book, but probably not for readers unfamiliar with fantasy.