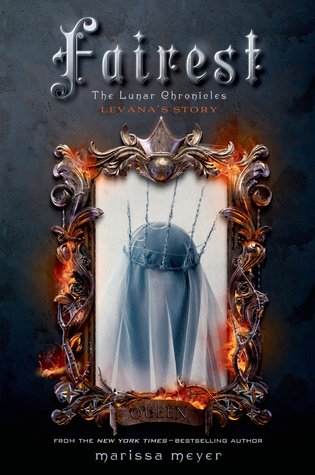 Fairest by Marissa Meyer
The Lunar Chronicles #3.5
Publisher: Feiwei & Friends
Release Date: January 27th, 2015
Source: Bought
Date Read: 2/9/15 to 2/9/15
222 pages
Rating:

✰
✰
✰
✰
In this stunning bridge book between Cress and Winter in the bestselling Lunar Chronicles, Queen Levana's story is finally told.

Mirror, mirror on the wall,
Who is the fairest of them all?

Fans of the Lunar Chronicles know Queen Levana as a ruler who uses her "glamour" to gain power. But long before she crossed paths with Cinder, Scarlet, and Cress, Levana lived a very different story – a story that has never been told . . . until now.

Marissa Meyer spins yet another unforgettable tale about love and war, deceit and death. This extraordinary book includes full-color art and an excerpt from Winter, the next book in the Lunar Chronicles series.
Goodreads | Amazon | B&N | Book Depository
I can't believe I'm saying this, but I wish there was more. More than 222 pages I mean. (I was actually wondering why my book was thicker, but that's because there's an excerpt of Winter in there that I don't want to read, because that is just a cruel teaser). Anyways.
This is a review of a novella from The Lunar Chronicles! The story itself contains no spoilers for the entire series,
but in my opinion it would be more enjoyable to read after the third book,
Cress
.
As said in the blurb, the story is about Queen Levana's childhood, well mostly her messed up teen years. Seriously, what is wrong with this family?
Truthfully, I felt no pity for Levana. Even though her older sister was the one that kind of made her into the person she is in the present, more of it was due to Levana's hopeless crush and obsession on a married soldier.
It was really creepy stalkerish.
But yeah, the motives and thoughts of Levana are definitely questionable, I mean she manipulates someone into loving her, and glamouring herself to look like his dead wife. NO. NO. YOU NEED TO STOP. gah.
IT IS TOTALLY WRONG. IT IS. HE DOESN'T LOVE YOU
And Levana really, really wants the throne. So much that there is just DEATH EVERYWHERE. Some of it isn't even her fault, but she probably did play a part in it somewhat. Pretty much all I got from this novella was that 1) Levana is crazy and 2) She needs to be stopped even though she's only doing what is right for Luna 3) GO CINDER GO I BELIEVE IN YOU.
The story itself was very fast paced. I really wanted it to slow down so it could expand on certain things, but then again it is still only a novella. It didn't succeed in changing my thoughts about Levana, I still want to see her go down.