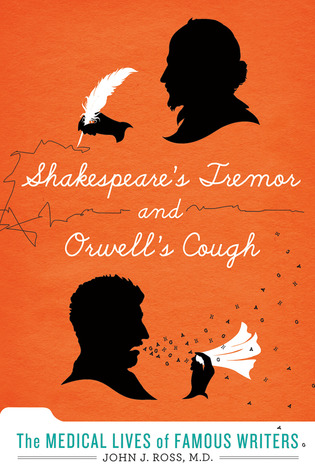 Shakespeare's Tremor and Orwell's Cough by John J. Ross
Publisher: St. Martin's Press
Release Date:

October 1st, 2012
Source: Library
Date Read: 6/26/14 to 7/1/14
291 Pages
Rating:
✰
✰
✰
✰
The doctor suddenly appeared beside Will, startling him. He was sleek and prosperous, with a dainty goatee. Though he smiled reassuringly, the poet noticed that he kept a safe distance. In a soothing, urbane voice, the physician explained the treatment: stewed prunes to evacuate the bowels; succulent meats to ease digestion; cinnabar and the sweating tub to cleanse the disease from the skin. The doctor warned of minor side effects: uncontrolled drooling, fetid breath, bloody gums, shakes and palsies. Yet desperate diseases called for desperate remedies, of course.



Shakespeare

's shaky handwriting, his obsession with venereal disease, and his premature retirement connected? Did

John Milton

go blind from his propaganda work for the Puritan dictator Oliver Cromwell, as he believed, or did he have a rare and devastating complication of a very common eye problem? Did

Jonathan Swift

's preoccupation with sex and filth result from a neurological condition that might also explain his late-life surge in creativity? What Victorian plague wiped out the entire

Brontë

family? What was the cause of

Nathaniel Hawthorne

's sudden demise? Were

Herman Melville

's disabling attacks of eye and back pain the product of "nervous affections," as his family and physicians believed, or did he actually have a malady that was unknown to medical science until well after his death? Was

Jack London

a suicide, or was his death the product of a series of self-induced medical misadventures? Why did

W. B. Yeats

's doctors dose him with toxic amounts of arsenic?

Did James Joyce

need several horrific eye operations because of a strange autoimmune disease acquired from a Dublin streetwalker? Did writing

Nineteen Eighty-Four

actually kill

George Orwell

?





The Bard meets

House, M.D.

in this fascinating untold story of the impact of disease on the lives and works of some the finest writers in the English language. In

Shakespeare's Tremor and Orwell's Cough,

John Ross cheerfully debunks old biographical myths and suggests fresh diagnoses for these writers' real-life medical mysteries. The author takes us way back, when leeches were used for bleeding and cupping was a common method of cure, to a time before vaccinations, sterilized scalpels, or real drug regimens. With a healthy dose of gross descriptions and a deep love for the literary output of these ten greats, Ross is the doctor these writers should have had in their time of need.
Goodreads
|
Amazon
|
B&N
|
Book Depository
It's been a while since I've read a non-fiction book for pleasure. However, while I wandering through my local library, I stumbled upon this book and
knew
I had to read it. I've always been fascinated with the lives of famous authors and how their surroundings impacted their work. In particular the mental struggles of authors interested me the most, but seeing this book made me (stupidly) realize that great authors can and do suffer from physical illnesses as well.

What surprised me the most was how engaging his writing was. I went in expecting a somewhat boring read filled with medical jargon. Instead, I was surprised to find that each section began with a little vignette of the afflicted author either receiving treatment or the initial diagnosis. The writing in these sections made me feel as if I was reading a short story. And even after the vignette ended I felt as if Dr. Ross was able to maintain a fairly colloquial tone.

Let me begin with the structure. The book is divided into ten chapters, each focusing on a separate author. The only exception to this is the chapter on the Brontës, which talks about the illnesses of the entire family and how they might have impacted each other. Each chapter begins with a brief fictionalized vignette of the author dealing with their illness. After that, each chapter reads like a mini-biography. He talks about where they were born, how they're parents were, and follows them throughout their lives. The only obvious difference is that in addition to following their travels and literary careers, we also get updates about hospital stays, treatments, and various symptoms. However, all the medical information is presented in the least complicated terms and you never feel overwhelmed. At worst, you feel horrible for what these writers had to go through. In addition, Dr. Ross isn't just handing out his own diagnoses, he also takes care to mention other speculated diseases.

What I liked most about this book is how it humanized these great writers for me. Medical care for these authors was pretty much their doctor's performing hit-or-miss treatments, and there were a few authors that became sicker later on because of the "treatments" they had received. One example is Shakespeare, who likely suffered from syphilis which was treated by ingesting liquid mercury in his time. While he was eventually cured from syphilis, he developed a severe tremor--rendering him unable to write his own plays--among other symptoms, likely from mercury poisoning. I also found it interesting how in some authors cases while they were dealing with illness, mentions of the illnesses they were dealing with appeared more often in their work, and once they were "cured" these mentions subsided. It was just cool to see how you could piece together an author's life from reading their works of fiction.

If there is anything I took away from this book, it was a deeper understanding and appreciation of some of my favorite works. 1984 is one of my favorite books. I love talking about it and relating current day events and ideas in other books I read back to it. When we first read it in class, my teacher off-handedly mentioned how he had written it on his death bed. But having that foreknowledge did not prepare me to read about how it basically took enormous amounts of his non-existent energy to complete this book. After finishing it he had to be rushed to sanatorium, and he took little pleasure in the money he gained from the book because he was fully aware that he was going to die soon.

On the other hand, it was equally inspiring to read about Herman Melville battling with physical ailments and severe mental illnesses and having the love and support of family and friends helped keep his diseases from getting much, much worse (although they were pretty bad).

I highly recommend this book to people interesting in learning more about and oft-forgotten part of author's lives or anyone just looking for a slightly different read.
Vanessa
is Val's bestest buddy, and she will be guest posting throughout the summer because
she loves to read and write.
You can also find her at her own blog,
Musings of an Aspiring Writer
.