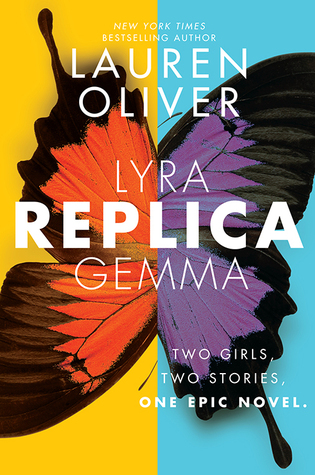 Replica by Lauren Oliver
Publish
er: HarperCollins
Release Date: October 4th, 2016
Source: Edelweiss
Date Read: 9/30/16 to 10/3/16
554 pages
Gemma has been in and out of hospitals since she was born. 'A sickly child', her lonely life to date has revolved around her home, school and one best friend, Alice. But when she discovers her father's connection to the top secret Haven research facility, currently hitting the headlines and under siege by religious fanatics, Gemma decides to leave the sanctuary she's always known to find the institute and determine what is going on there and why her father's name seems inextricably linked to it.

Amidst the frenzy outside the institute's walls, Lyra - or number 24 as she is known as at Haven - and a fellow experimental subject known only as 72, manage to escape. Encountering a world they never knew existed outside the walls of their secluded upbringing , they meet Gemma and, as they try to understand Haven's purpose together, they uncover some earth-shattering secrets that will change the lives of both girls forever...
I received this ARC in exchange for an honest review. Quotes taken from ARC may or may not be in the published edition.
A very long time ago, in a house I no longer live in, I read Delirium. I remember liking it a decent amount, though I admit that was a time I felt like I had to like everything. If I were to read it again, I'm not sure I would have the same feelings I had years ago. Nevertheless, I still keep track of Oliver's books, because she was one of the first YA authors I read, as a young adult.
Don't get me wrong, I did like Replica! It actually reminded a bit of Stranger Things (though Joey @
Thoughts and Afterthoughts
says I can't just compare anything to Stranger Things, so let me specify) in that there are clones called replicas, and they're all locked in this laboratory, and treated like lab rats.
Remember the time in AP Biology when we were breeding fruit flies?
And we couldn't release the next generation of fruit flies and instead drown them? Yeah, it was like that, except with humans. Or replicas.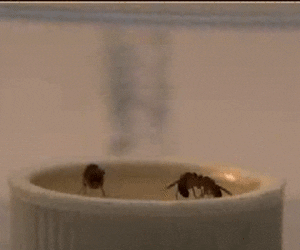 Gemma and Lyra are both connected to Haven, the institute that houses all the replicas. It is really sad to read about Lyra, who as a replica, has to undergo a bunch of procedures. While there, they aren't treated as humans, but rather as objects. They are constantly referred to as "it", and honestly, it was horrible to read. Which isn't necessarily a bad thing in this case, as it made me care more about the characters in general. On the other hand, Gemma is leading a pretty normal life, though her parents are way too overprotective. She's been waiting forever to go on a road trip to Florida with her best friend, but at the last minute, her parents refuse to let her go. Why? Because her father has connections to Haven, which is on an island off the coast of Florida. He doesn't want Gemma knowing what is going on there, or the connections between it and their family.
As you've probably heard, Replica has a unique format. You can read either Lyra's or Gemma's side, but you won't get the full story unless you read both. I ended up reading a couple of chapters at a time before flipping over to the other side and reading the same corresponding chapters (reading one chapter each took too much energy haha). Although I found this really interesting and different, it felt a little unnecessary. The chapters could have just switched off between Gemma and Lyra. But then again, I liked how there's variability in how you can experience the book.
Oh!
And Gemma lives in Chapel Hill
! Which is where I am! Right now! Though it is so not true that Chapel Hill is a boring place to live in. It's only boring if you are under 21, or not in college. Which ended up being the case for Gemma anyways (but then it's like that for anywhere. I will never regret the day I turned 21).
In the end, this didn't exactly blow me away, but I still found it highly entertaining and a fast read. I don't think I can say that Lauren Oliver is my absolute favorite YA author, but she does hold a place in my heart.