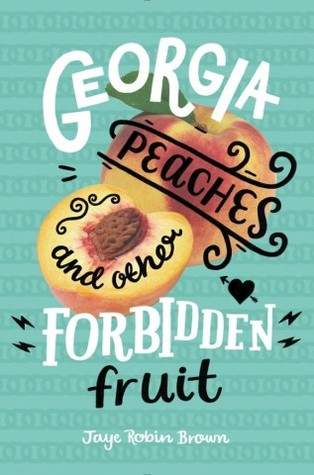 Georgia Peaches And Other Forbidden Fruit by Jaye Robin Brown
Publish
er: HarperCollins
Release Date: August 30th, 2016
Source: Library
Date Read: 9/9/16 to 9/21/16
432 pages
Joanna Gordon has been out and proud for years, but when her popular radio evangelist father remarries and decides to move all three of them from Atlanta to the more conservative Rome, Georgia, he asks Jo to do the impossible: to lie low for the rest of her senior year. And Jo reluctantly agrees.

Although it is (mostly) much easier for Jo to fit in as a straight girl, things get complicated when she meets Mary Carlson, the oh-so-tempting sister of her new friend at school. But Jo couldn't possibly think of breaking her promise to her dad. Even if she's starting to fall for the girl. Even if there's a chance Mary Carlson might be interested in her, too. Right?
Before I start this review, I want to mention that I have never lived in the Bible Belt, or in the conservative South. Sure, I'm currently in North Carolina, but I'm definitely in a very liberal, college town. Most of what I'll be saying is just me being frustrated at the whole father-daughter relationship, but
you should probably be taking this review with a grain of salt
because 1) it mostly has to do with my feelings 2) and you might enjoy this more than I did.
I was really excited about this book. For one it had peaches on the cover, which is an automatic plus, and it had a f/f relationship, one of the main reasons I was highly anticipating it. Although it was what I expected, it was also not what I expected.
Joanna has recently moved away from Atlanta, to Rome, Georgia with her preacher father and her new stepmother. Because the town is not so liberal as Atlanta is, her father makes Jo promise to not be so "out there" with her sexuality, especially around his new wife's family. He promises that he'll let her start a teen segment on his radio show, and that she can go on a summer trip with her best friend Dana. If she doesn't out herself to the whole town.
I didn't expect myself to be so uncomfortable, and so angry about this entire situation. I'm just going to list all my feelings about it here.
Her father says he accepts Jo, but he holds her summer trip above her head. He doesn't practice what he preaches, and as a preacher, I hate him even more for it. Jo wants to start her own segment on the radio show that talks about sexuality, acceptance, and God. Her father is holding her back, saying she needs to take it slow, and at times, censoring what she says. I did end up skimming the end, so I'm sure this changes at some point, but this bothered me a lot in the beginning.
Jo changes everything about herself for school. Her personality, her name (from Jo to Joanna), even her wardrobe. And it hurt seeing how everyone was more accepting of her. And that she was actually enjoying it. In this case, I'm sad about how this is probably accurate of the South, and not so much at the book.
The forbidden fruit was not so hard to catch apparently. I was expecting more of a slow burn, and a slow come to terms with sexuality. Maybe even a pushback. But nope!
And because of that, there were more frustrations, more hurts, and what was supposed to be a nice, fun, relaxing read turned into a stressful one.
On the other hand, I did like some aspects of the novel. Such as the relationship between Jo and her stepmother, which throughout the course of the novel, became more and more understanding. Or more accurately, Jo's opinion of her grew better and better.
Ok I lied, that seems to be the only thing I liked. Unfortunately, I ended up skimming most of the end because I really wanted to be done with the book (plus the due date for it was coming up). In the end, this was a miss for me!