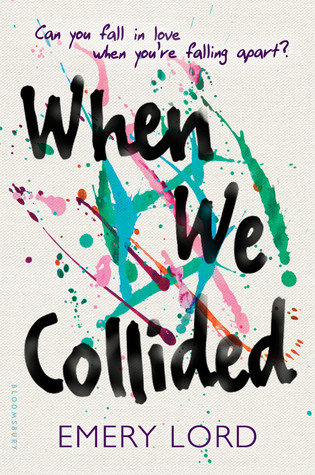 When We Collided by Emery Lord
Publish
er: Bloomsbury USA Children's
Release Date: April 5th, 2016
Source: ALA Midwinter
Date Read: 4/7/16 to 4/10/16
352 pages
We are seventeen and shattered and still dancing. We have messy, throbbing hearts, and we are stronger than anyone could ever know…

Jonah never thought a girl like Vivi would come along.

Vivi didn't know Jonah would light up her world.

Neither of them expected a summer like this…a summer that would rewrite their futures.

In an unflinching story about new love, old wounds, and forces beyond our control, two teens find that when you collide with the right person at just the right time, it will change you forever
I received this ARC in exchange for an honest review. Quotes taken from ARC may or may not be in the published edition.
This is going to hard for me to review. Again. I actually do have a lot of things to say, but I'm struggling to find a way to say them all, without being offensive. Especially since features a main characters with bipolar disorder.
Maybe I'll just say it straight? Ok? Ok.
So, I guess this is kind of a disclaimer in that I
don't know anything about bipolar disorder
. I used to think it was as simple as "oh you change moods super easily". But I'm sure that's not what it is.
Anyways, Vivi has bipolar disorder, but she's skipping out on some of her medication because of the side effects. She has just moved to this wonderful little beach town called Verona Cove, where she meets Jonah, who is struggling with his own problems. This includes taking care of his three younger siblings, while working. With his mom rarely getting out of bed, and his two older siblings working and at college, it's incredibly hard for him to juggle all the things.
And along comes Vivi, who completely turns his world around. She comes up with the craziest ideas with the kids, like a scavenger hunt, or a Slip n' Slide. And at first glance, Vivi is such a great character. She loves kids, she knows how to have fun with them. I like kids, I don't know if I'm any fun but let's just assume kids love me (They do).
But then there are just some things here and there that have gotten under my skin.
Like the fact that Vivi gets jealous when Jonah talks to other girls. Or in this case, it's his friend, from work. Whose father is really good friends with his late father. In which he was asking her for advice on how to make the family restaurant better. Like you are
allowed to have relations with the opposite sex
.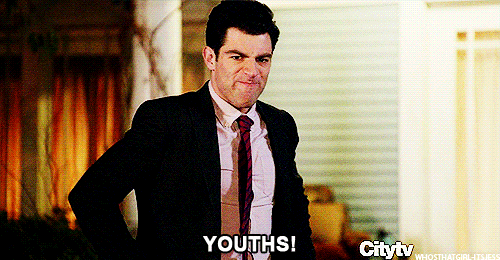 And then a lot of Vivi's decisions have been a little....crazy I suppose? And I couldn't get behind how she was treating Jonah at times, brushing him off and not respecting him at times. And I guess what is really bothering me is that I find it
hard to criticize her
without sounding like...well, an asshole. It is obvious that her bipolar disorder comes into play, and I know that excuses her actions.
But unfortunately, I couldn't just ignore the feelings I had in regards to this novel.
How am I supposed to know which thoughts were Vivi's, or the bipolar disorder? It was frustrating. (Cue
discussion post
!)
The rest of the novel I did like, though it was a little out of my comfort zone. In the end, it wasn't as bad as I thought it would be. Like I really loved the fact that the characters were well developed. Jonah just wasn't just some guy, and Vivi actually had more going on than her illness.
I don't regret reading this, and I'm sure I'll enjoy more of Emery Lord's books in the future, but I think this was just a little too much for me.