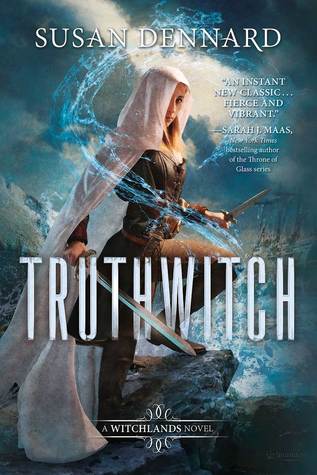 Truthwitch by Susan Dennard
Publisher: Tor Teen
Release Date: January 5th, 2016
Source: Book Expo America
Date Read: 5/30/15 to 5/30/15
416 pages
On a continent ruled by three empires, some are born with a "witchery", a magical skill that sets them apart from others.

In the Witchlands, there are almost as many types of magic as there are ways to get in trouble—as two desperate young women know all too well.

Safiya is a Truthwitch, able to discern truth from lie. It's a powerful magic that many would kill to have on their side, especially amongst the nobility to which Safi was born. So Safi must keep her gift hidden, lest she be used as a pawn in the struggle between empires.

Iseult, a Threadwitch, can see the invisible ties that bind and entangle the lives around her—but she cannot see the bonds that touch her own heart. Her unlikely friendship with Safi has taken her from life as an outcast into one of reckless adventure, where she is a cool, wary balance to Safi's hotheaded impulsiveness.

Safi and Iseult just want to be free to live their own lives, but war is coming to the Witchlands. With the help of the cunning Prince Merik (a Windwitch and ship's captain) and the hindrance of a Bloodwitch bent on revenge, the friends must fight emperors, princes, and mercenaries alike, who will stop at nothing to get their hands on a Truthwitch.
Goodreads | Amazon | B&N | Book Depository
I received this ARC in exchange for an honest review. Quotes taken from ARC may or may not be in the published edition.
So here we are, months since I have read the book, which I rushed to receive at BEA (everyone else was rushing too!) But anyways, I read the book in May. In one day. Oh, and this is scheduled, because no way in hell would I have remembered anything in December. Ha. So I guess you could say this review is my initial thoughts, seeing as I reviewed it right after reading it. If I were to read it again, maybe my opinion would have been different, but as of now, I really loved this book.
Moving on.
Where do I even start with this book? Fully developed world, characters each with their own backstory, antagonists that aren't just black and white, an interesting plot immersed with politics and magic. OH AND DEATH. Don't forget death.
So here's the thing. Safiya is a Truthwitch, and no one but her best friend Iseult and immediate family know about it. In fact, everyone has been protecting her from the start, which is what gets Safi into a whole mess with Prince Merik. What does it mean to be a Truthwitch, you may ask. Or a Threadwitch? OR ANY WITCH IN GENERAL. For Safiya, being a truthwitch means being able to tell whether someone is truthful, whether it's a statement or the nature of a person. She's considered very valuable because the last Truthwitch died 24353 years ago (random number sorry, you get my point), and come on she can tell what's true from false, and this whole story revolves around politics so who wouldn't want that?
There's also Iseult, who as a Nomatsi Threadwitch, is discriminated by almost everyone. I'm not sure why that is the case because it was never explained (sadly), and I'm also unsure whether her power, being able to see threads of emotion coming out of people, is just exclusive to her. Apparently every witch must have a Threadsister or brother, so that may not be the case.
Honestly, I was so immersed in the story of Iseult and Safiya, and their encounter with the Bloodwitch, Prince Merik, and everyone else, that I never really had the time to fully analyze what I loved (No surprise). All I know is that I couldn't put the book down from the moment I stepped on the bus from NYC back to Boston. Sure, I have to admit some things never got explained, but I'm sure that will happen in the second book. Whenever that comes out. Ha.
Overall, I loved Truthwitch. I loved the world, loved the magic, loved the characters, and most importantly, I love where this plot is going. I can't say whether I have or haven't been influenced by the hype monster or not (probably have), but for now I'll just let that slide.
Looking for a different perspective? Holly and I are post twinsies for today! Check out her review of Truthwitch
here!