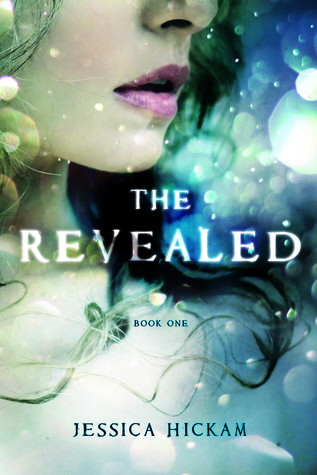 The Revealed by Jessica Hickam
Publisher:
Sparkpress
Release Date: June 17th, 2014
Date Read: 6/6/14 to 6/7/14
314 Pages
Rating:
✰
✰
✰
Lily Atwood lives in what used to be called Washington, D.C. Her father is one of the most powerful men in the world, having been a vital part of rebuilding and reuniting humanity after the war that killed over five billion people. Now he's running to be one of its leaders.

But in the rediscovered peace on Earth, a new enemy has risen. They call themselves the Revealed – a powerful underground organization that has been kidnapping 18 year olds across the globe without reservation. No one knows why they are kidnapping these teens, but it's clear something is different about these people. They can set fires with a snap of their fingers and create a wind strong enough to barrel over a tree with a flick of their wrist. No one has been able to stop them, and they have targeted Lily as their next victim.

But Lily has waited too long to break free from her father's shadow to let some rebel organization just ruin everything. Not without a fight.
Goodreads
|
Amazon
| B&N | Book Depository
Pretty cover, cover is so pretty. It's so shiny and bubbly-looking I just want to touch it. Too bad I received an e-book of it through Netgalley. Thank you Sparkpress!
On a different note, I kind of had some beef with The Revealed. Just a little bit though. Overall I thought the concept was cool, but many things could've been done better. I'll start with the summary first though.
The Revealed takes place in a future ravaged by war, yet the East Coast of the US is completely untouched. Lily Atwood, the daughter of one of the presidential nominees, is locked away in her room after finding multiple threats against her, from The Revealed, a mysterious organization that kidnaps select 18-year olds. Her parents have maximum security around her, because if the future president can't keep his daughter safe, then how can he keep the world safe?
Unfortunately, we aren't introduced to The Revealed until halfway through the book. So instead, we get to listen to Lily's constant complaining about how she can't get out of the house, even though she gets to later on. Oh, and then there's also Kai, the romantic interest, who is the son of the other presidential nominee. And she can't stop thinking about him, even though he called her a snob and is also a playboy. The only thing we know about him is that he has looks, and is pretty much the dream boy. And he's also in the army, with the task of finding the hideouts of The Revealed.
My main problem with this book is that there are too many unanswered questions
. Plus the world just doesn't seem right. The world has just been destroyed by nukes and war, but yet the East Coast is totally untouched, plus there's still internet, touch screen tablets, cars, etc. I understand that Lily's family is super rich, but why does her dad have an
Aston Martin
. And plus, a lot of emphasis is put on the social gap between the rich and the poor, with the poor basically only working in factories and the such. But we never see this. It really feels like everything is just the way it is in
our world
.
Along with this. I still know nothing about the war. What war? What happened to cause this war? WHY DO I GET NO ANSWERS?
Not happy
Even though the book is titled The Revealed
, I didn't find out about it until halfway through. As much as I "loved" Lily's conversations with herself, and plus her constant escape attempts, I wanted to know more about the Revealed. Plus, pretty much every conversation went like "Mom, you can't keep me safe, The Revealed are going to get me one way or another", or something along those lines. Like, okay, I get it. NOW TELL ME ABOUT IT REALLY.
When I did finally get to the part of The Revealed, I have to say that I did like it. I won't spoil it, because it's far into the book, but I like the idea behind it.
And also, I did like that one plot twist. I really did not see that coming. That's the part of the book where things did
finally
pick up, and I'm glad for it. But overall, The Revealed wasn't bad, but it wasn't a heart-stopper either. Also, this might just be setting up for the next book in the series, and in that case it does a pretty decent job. I'm still not a fan of Kai though. His name reminds me too much of another character in another book too.