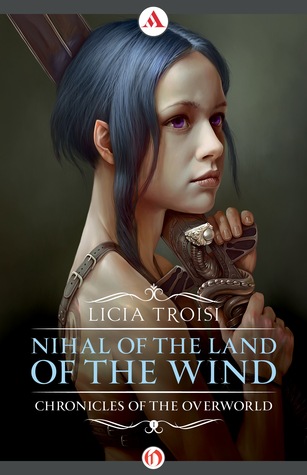 Nihal of the Land of the Wind by Licia Troisi
Chronicles of the Overworld #1
Publisher: Open Road Integrated Media
Release Date: May 27th, 2014
Date Read: 5/16/2014 to 5/21/2014
230 Pages
Rating:
✰
✰
1/2
An international bestseller from an extraordinary storyteller—get ready for Nihal and her world

Nihal lives in one of the many towers of the Land of the Wind. There is nobody like her in the Overworld: big violet eyes, pointed ears, and blue hair. She is an expert in swordplay and the leader of a handful of friends that includes Sennar the wizard. She has no parents; brought up by an armorer and a sorceress, Nihal seems to be from nowhere.

Things suddenly change when the Tyrant takes charge. Nihal finds herself forced to take action when she is faced with the most difficult mission a girl her age could imagine.

Fierce, strong, and armed with her black crystal sword, Nihal sets out to become a real warrior. Readers will be riveted as she forges her powerful path of resistance.
Goodreads
|
Amazon
| B&N | Book Depository
I r
eceived an e-ARC of this book from NetGalley. Thank you Open Road Media!
If I'm correct, Nihal of the Land of the Wind is translated from Italian, and has actually been around since 2004, and is called
Nihal della terra del vento (plus it has a badass cover to go along with it, which doesn't exactly fit with the contents of the story). So basically, this is an English translated version that's being published in five days.
My first impressions of the cover and the name caused me to instantly relate this to
Nausicaa
of the Valley of the Wind. And even though I knew it wouldn't be similar, I was still prepared to enter a world filled with magic, a complex theme, a little bit of romance, and a lot of world-building.
And also glowing wheat. That's a plus.
Well, let's just say that my expectations were not met.
Let me explain. Even after only the first chapter, you could tell that the book's aimed toward middle schoolers. The writing was very fast-paced, with much telling rather than showing. First, we're introduced to Nihal, an unusual girl with pointed ears and purple hair is so talented in sword-play that she's always the commander in the war games she plays with her friends. Then later on, we find out that yes, Nihal is an excellent swordsman because her father, Livon, is an armorer or a weapon's dealer.
After a series of events, Nihal trains under a sorceress, who happens to be Livon's sister, in order to learn magic. She becomes friends with Sennar, the other student and also other main character. But then, THERE'S WAR. And the people in the Land of the Wind all try to flee while their town is burned to the ground. Nihal is devastated, and then she finds out she's the last half-elf of her kind, because the Tyrant destroyed them all.
So now, SHE MUST HAVE REVENGE!
The character development here is: Naive, talented girl playing with swords and magic, to RECKLESS KILLING MACHINE
Key word is reckless. Here I was, good with the first half of the book. Sure it was fast-paced, but I get it, this is meant for a younger audience. But then, in the last parts of the book, we see a reckless, stupid decision-making main character, who I want to bash on the head multiple times.
Example:
Nihal's Superior (Ido): "Nihal, don't get close to the dragon because he might hurt you. He's not used to a new rider yet"
Nihal: *gets close to the dragon*
Dragon: *breathes fire on her*
Nihal: "I'M SORRY I'LL NEVER DISOBEY YOU AGAIN!"
Nihal's Superior (Ido): "Nihal, you can't ride the dragon yet. I have to train you properly, and I will have a have a day of important business to attend to"
Nihal: *rides the dragon without supervision anyways*
Dragon: *goes crazy*
Nihal: "I'M SORRY I'VE LEARNT MY LESSON!"
Nihal's Superior (Ido): "Nihal, you are not going into battle today because you need to control your feelings. Stay here!"
Nihal: *sneaks away to join the army into battle*
Nihal: *doesn't retreat and gets wounded*
On the other hand, I did like this one scene, where in order for Nihal to enter into the Dragon Academy to become a dragon soldier, she had to earn her place. The general didn't want a girl in his academy, so he made an outrageous deal with her. If she could defeat 10 of his top soldiers, she would be accepted. And although it was very hard to believe she beat them all, I kept on rooting for her throughout the whole trial.
Overall, I did enjoy Nihal of the Land of the Wind to some extent, well mostly the first half. It wasn't the fantasy novel I was expecting, and plus there really wasn't any climactic scene at the end, which was a bummer. Also, it doesn't seem like there will be a continuation of the series, since it's been 10 years since the first book (I'm so old). And please keep in mind that if you have read this in Italian, this is the English review for this book, because I can't read Italian. The translation errors could have an effect on my reading of the book. Maybe it sounds prettier, better in Italian? I will never know.
Thanks for reading my review. You can request this title at NetGalley if it's still available!