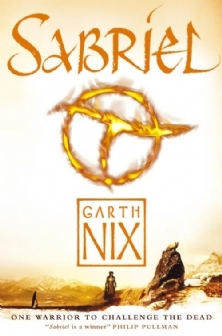 Sabriel by Garth Nix
Abhorsen #1
Publisher: HarperCollins
Release Date: September 30th, 1996
Sent to a boarding school in Ancelstierre as a young child, Sabriel has had little experience with the random power of Free Magic or the Dead who refuse to stay dead in the Old Kingdom. But during her final semester, her father, the Abhorsen, goes missing, and Sabriel knows she must enter the Old Kingdom to find him. She soon finds companions in Mogget, a cat whose aloof manner barely conceals its malevolent spirit, and Touchstone, a young Charter Mage long imprisoned by magic, now free in body but still trapped by painful memories. As the three travel deep into the Old Kingdom, threats mount on all sides. And every step brings them closer to a battle that will pit them against the true forces of life and death—and bring Sabriel face-to-face with her own destiny.

With Sabriel, the first installment in the Abhorsen trilogy, Garth Nix exploded onto the fantasy scene as a rising star, in a novel that takes readers to a world where the line between the living and the dead isn't always clear—and sometimes disappears altogether
Start: 1/24/2014 | End: 1/30/2014 | Pages: 491 | Rating: 5 Stars
My Thoughts:
I am so glad that someone recommended this book to me, because it was a fantastic read. I am a HUGE sucker for the fantasy and adventure genre, as long as it's not downright confusing. I admit that during the prologue, I had a hard time following what was happening, but other than that, I knew what was going on.
The story starts off, after the prologue, with Sabriel at her boarding school in Ancelstierre. After finding out that her father, the famous necromance Abhorsen, is stuck in death, she goes out to rescue him. Along the way, she discovers the secrets of the Old Kingdom, a deathly yet trustworthy (?) companion cat named Mogget, and also a Charter Mage imprisoned by magic, which Sabriel frees him of. Together, the three of them travel across the land in order to search for her father, and of course in the end going against what "killed" him in the first place. No story is ever so simple.
The characters was what really made this journey. If Garth Nix hadn't developed such wonderful characters, especially Sabriel, then this story would have just been another one of those books with a start and an end. Sabriel is a character with equally as many flaws as strengths, in other words, she's not an all powerful know-it-all. Her father has kept her away from the Old Kingdom, but still taught her the ways of a necromancer. Although she's not as good as her father, she at least tries her best and isn't reckless about it. She makes her own decisions about who to save, and who to leave behind.
On the other hand, Mogget the cat has an alter ego, when without his collar. When I mean alter ego, I mean a completely different personality and form, with the power to kill. I wish I could've known more about the origins of Mogget, and how he came to be captured, but I will assume that it will be in the next book.
Then there's Touchstone, the young Charter mage who manages to be amnesic only at the times Sabriel needs information. Being the only male in the group, I knew there would be some romance between him and Sabriel, but Nix did such a good job with NOT over doing it, so good that I actually wanted something to happen! This is because right now, there are more important events for Sabriel and Touchstone to worry about besides a relationship. Although I am looking forward to how it will play out in the next book in the series.
Basically,
the plot itself is amazing, the characters have superb character development, the world itself is very unique,
and also,
the romance was not overbearing.
This is what I like to see in a fantasy, young adult novel!